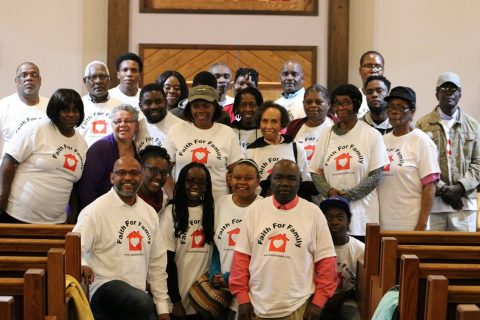 Sabbath School Ministry
Join one of our adult Sabbath school lesson study groups. Every week small groups get together to share what they learned from the lesson and how it has made a difference in their lives.
Community Evangelism
Our goal is to help the disadvantaged, grief stricken and suffering in our community by empowering them through compassionate emergency care, life education and community development which encourages people to take a personal and proactive approach to life.
Health Ministry
From demonstrating healthy principles at our Sabbath Fellowship Meal to offering seminars on smoking cessation and stress free living, we want to provide lots of ways for people to lead healthy and happy lives.  Our health and wellness ministry provides a variety of classes, activities and resources to encourage healthy living. From Stress and Time Management classes, to Vegetarian Cooking and Lifestyle clinics, our goal is to empower you to experience the abundant life God desires for you! 
Healthy Cooking Ministry
Want to learn how to transform all those lovely farmer's market vegetables and produce aisle delights into healthy, tasty meals? If you're interested in eating more healthfully but not sure where to start – this is the class for you. Even kitchen pros will pick up great ideas for quick, healthy meals.
Women's Ministry
The purpose of Women's Ministries is to uplift Jesus and to encourage women to grow in their relationship with Him, understanding God's amazing love and plan for their lives. As we are impacted by this deeper relationship with Christ, we share him with our family, friends, neighbors and church. The Women's Ministry Team creates a variety of activities which are designed to help meet the spiritual, social, and service needs of women.
Men's Ministry
Our ministry includes everything from small group activities to extending a helping hand to individuals and families that need assistance with anything from moving to small projects .  The goal of men's ministries is to awaken the energy and resources of men for the sake of God, Family, Church and Community.  If you are a man come join us!
Single Adult Ministries
Single Adult Ministries is a fellowship that provides the opportunity and encouragement to single adults (whether never married, divorced, or widowed) for getting acquainted with other singles for the purpose of reflecting, discussing issues, studying God's Word, singing, praying, interacting, resting, traveling, and enjoying God's great outdoors.
Family Life Ministry
The goal of the Family Ministries Department is to help grow and strengthen families in their relationship to God and each other.  We provide support and practical training for people through all phases of life and development, including couples, parents and children, and singles.  If you would like to be a part of the ministries this church has for families, contact the pastor for more information.